Your eyes and visual system are complicated and can require specialized care. Macular degeneration is a form of eye disease requiring specialized care from your optometrist through comprehensive eye exams.
There are 2 types of age-related macular degeneration (AMD), dry and wet. Dry AMD is the most common type and usually progresses slowly over several years. Wet AMD features faster vision loss.
Let's explore how macular degeneration develops and the differences between the 2 different types of macular degeneration.
What Is Macular Degeneration?
Age-related macular degeneration (AMD) is a vision condition affecting central vision by damaging the macula, causing blurred vision. AMD is a progressive condition and a leading cause of vision loss among older adults.
While AMD doesn't cause complete blindness, losing your central vision can make it more difficult to see faces, read, drive, or do work like cooking and fixing things around your home.
Some common signs and symptoms of late AMD can include:
Straight lines starting to look wavy or crooked
Noticing blurry areas near the center of your vision
Colors appearing less bright than before
Trouble seeing in low lighting
Around 11 million people in the US are affected by AMD, and there are 2 main types of AMD to look out for:
Dry AMD
Dry AMD is the more common form of the disease and occurs in early, intermediate, and late stages. While there is no treatment for late dry AMD, you can take steps to make the most of your remaining vision and preserve vision in your other eye if only one is affected.
Early dry AMD usually doesn't cause symptoms and typically progresses over several years from the macula thinning with age.
Wet AMD
Wet AMD is the less common form of the disease and results in faster and more severe vision loss. Wet AMD happens when abnormal blood vessels grow and leak in the back of the eye and cause damage to the macula.
Any stage of dry AMD can turn into wet AMD—however, wet AMD is always late stage.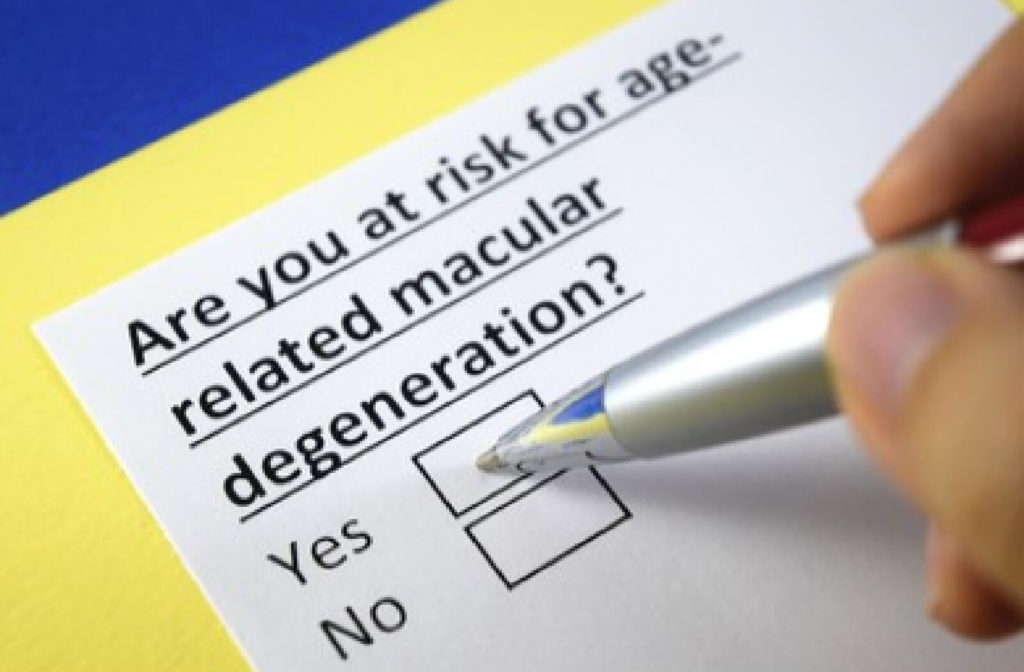 Macular Degeneration Treatment & Prevention
Your risk factors for developing AMD increase as you get older—in fact, people age 55 and older are more likely to develop AMD. The risk of developing AMD is also higher for people who:
Are caucasian
Smoke
Have a family history of AMD
It's essential to get regular eye exams if you're at risk for AMD so your eye doctor can stay up-to-date with your eyes and vision. Your optometrist will check for AMD through a comprehensive dilated eye exam so that they can get a detailed picture of your eye.
Treatment for AMD depends on the stage and type. While there's currently no treatment for early AMD, consistent eye exams can help your eye care professional keep track of any developing issues.
Prevention methods like giving up smoking and switching to a healthier diet can help slow the progression of the disease. Your optometrist can also help you with visual aids depending on the level of your AMD.
Not everyone with AMD develops late AMD—however, living with vision loss from AMD can be challenging. Low vision devices and vision rehab services are excellent options to help you relearn crucial visual skills and remain active even with low vision.
How Consistent Eye Exams Help
Eye exams usually take around 30 minutes to an hour and can do wonders to preserve your vision!
Your optometrist will ask questions about your personal and family medical history to kick off the exam and note any medications you're taking. During your exam, your eye doctor will implement tests that focus on:
Visual acuity (the sharpness of your eyesight)
Peripheral vision (your side vision)
Pupillary response (the way your pupils react to light and other conditions)
Your eye movement
These tests are designed to evaluate your overall eye health and determine if there are any signs of eye disease like macular degeneration and other vision problems.
Preserving Your Long-Term Eye Health
Macular degeneration can be challenging to manage and navigate, and dry and wet macular degeneration can both damage your vision. Still, it's important to know the differences between them and how you can approach treatment and management. Book an appointment with our eye care professionals at Foothill Optometric Group to get an early diagnosis and treatment for macular degeneration.